WP Admin Columns Pro Review
WP Admin Columns Pro Review
Admin column pro is a powerful plugin which is helping the users to manage, control and edit overview pages of WordPress Dashboard. It will expand the core functionality of WordPress columns available on overview pages for posts, pages, media, comments, users and other custom post types in a more effective way.
Amazing features which you must know
WordPress Admin Columns Pro will let you filter, edit, sort your admin columns in a more customizable and powerful way. It also supports inline columns editing. Most importantly, no coding is required for this all because the plugin comes with a drag and drop interface. Even searching for your required content has also become easier than ever before. The plugin supports WordPress Multisite networks including 398+ powerful columns for any type of content, including custom fields.
Save your columns' editing time
This is the best opportunity to edit your columns without even opening their content. If you want to experience a well-organized and clear editing environment then this the inline edit feature is what you need. It is because it will help you edit your content directly from the overview page. Just click inline edit and modify all of your fields faster.
Smart filters
As websites start to grow then it becomes harder to find what you want. Well, this is not hectic anymore because with Admin Columns you can easily set smart criteria to filter and segment your data in the best possible way. With Admin Columns Pro filtering your columns data is as simple as sorting.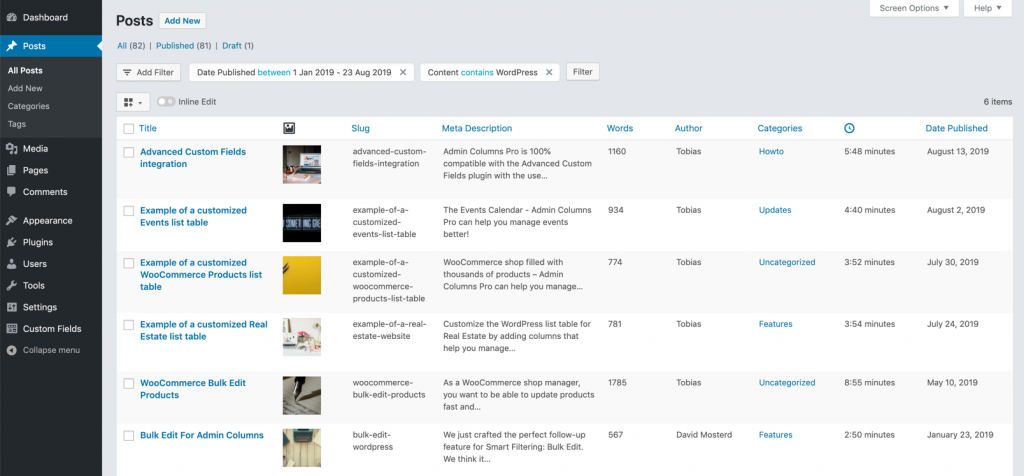 Column sets are here to help you
Do you have a small screen where it is becoming difficult for you to fit entire columns in page overview? Well, the column set feature is meant to create various views of your screens within seconds. You can easily decide which column should go in which column set and can switch between these with a simple dropdown menu.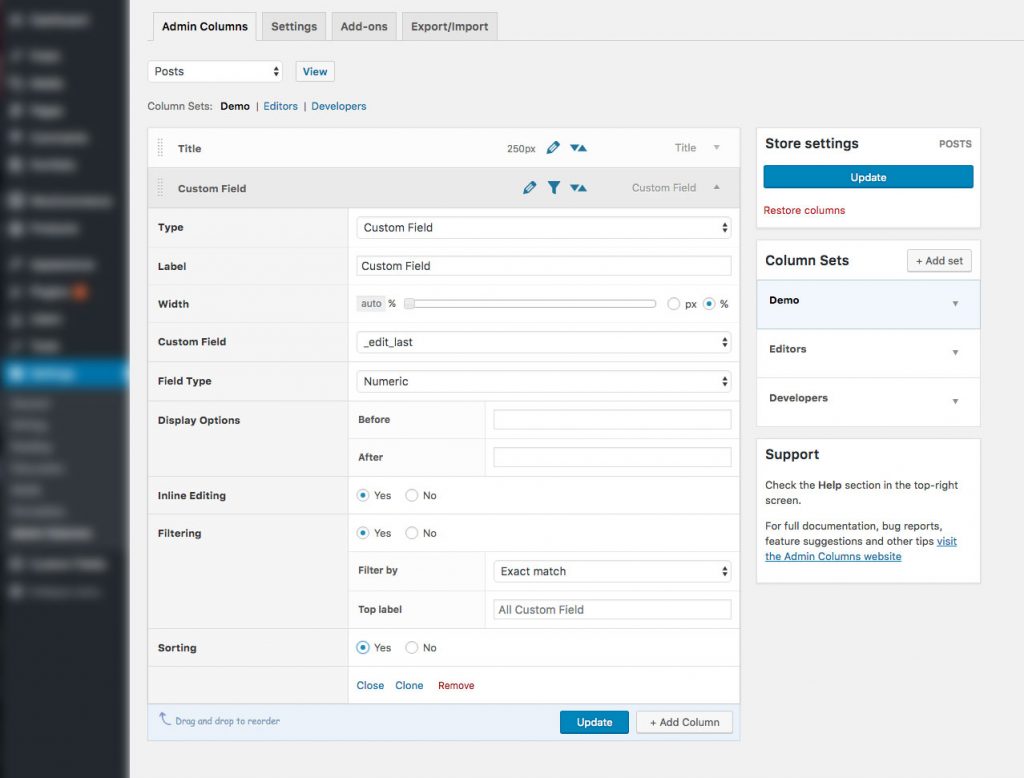 Easier sorting
Sometimes you may find a need to sort your WordPress content as per any requirement such as number of comments, image size, or content length. This plugin will let you sort content quicker and will let you manage your columns' content as you want. Once you have done with columns sorting, your results will be saved to preferences automatically.
Export your content to CSV
Admin Columns' Export feature will let you export the settings of your columns to any website. You can also use them as backups.
Admin Column Pro Add-ons
WooCommerce Add-on
With Admin Columns, you can easily get an amazing add-on for WooCommerce which can let you add more WooCommerce columns to your order, coupon and product overview pages. This will not only provide you more ease in managing your WooCommerce platform but will also let you have complete control over your eCommerce shop.
Advanced Custom Fields
This Ad-on will help you to add more custom fields to your WordPress content with ease. Admin columns have extended the functionality of Advanced Custom Fields further by allowing the users to display these custom fields as columns in the overview pages. It also allows you to quickly edit, bulk edit, filter & find and export features.
Yoast SEO
Admin Columns pro can help you to edit your Yoast column quickly. This will let you display entire columns that ship from Yoast SEO from the settings screen of Admin columns. You can also edit your title, keywords, descriptions to make them more SEO-friendly directly from overview pages.
Buddy Press
This integration from Admin Columns will let you manage your users' columns from the overview screen more effectively. It can support all of the profile fields to display. Even more, most of these can be filtered, edited or sorted directly from overview pages. It can be the best option to know about your users and manage them effectively.
Plans & Pricing
Admin Column Pro provides three subscription plans including Personal, Business and Developer License. Each plan comes with 1 year of free updates and you can renew for next year with 40% discount. The plugin offer 30 days money back guarantee and you can use PayPal or any Credit / Debit cards to purchase Subscription.
Final Words
When it comes to WordPress columns management then it may become quite hectic to edit, filter or sort columns on your overview pages in an effective way. Even more, it also takes too much time and energy to get done with this process.
However, this is the time to get benefit from an amazing option i.e. Admin Columns pro which is designed to help you in the process of managing your WordPress columns in a well-organized and customizable way.
This plugin has come with an amazing range of features and will let you organize and edit WordPress your columns which are being displayed on administration overview pages faster than ever before.
<!-comments-button-->