CitiLights – Best Real Estate WordPress Theme
CitiLights - Best Real Estate WordPress Theme
Offering so much by providing proper guidance and easy to handle plugins and themes for promotional purposes via the huge market internet proposes, in every field of life WordPress has a wonderful approach regarding real estate too with the name of CitiLights- Real Estate WordPress Theme which is perfect for Property and Agency's advertising websites.
Product Details
- Read Estate
- Responsive
- Agent Profile
- Agent Dashboard
- Advanced Search
- WPML Supported
- Payment Options
- Geo Location
- Unlimited Colors
- Visual Composer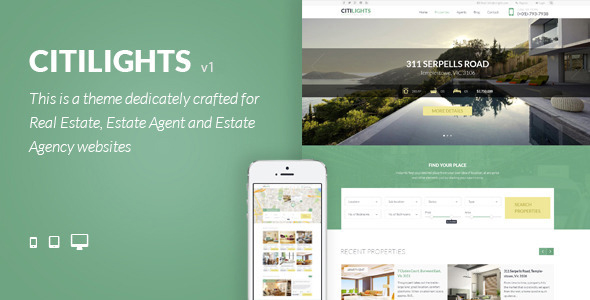 Image Source: ThemeForest
Keeping in mind the requirements for many opportunities to expand your property dealing business, we bring you this Real Estate WordPress Theme with plenty of features as given below:
CitiLights Features
With CitiLights real estate WordPress theme, you can create the site of your choice in an easy manner using visual composer present in its panel and various readymade short codes specially designed for Real Estate WordPress Themes in variable languages with the translator present.
Being equipped with all the properties required for completion of an agent's profile, Real Estate WordPress Theme offers full time frontend compliance with full control over setting profile, layout and description of site.
Presentation of tools to adjust various colored themes, use of slider plugins to create attractive effects and allowance for mentioning additional tallied information regarding the properties in a customized manner can be done via CitiLights real estate theme.
CitiLights real estate WordPress theme make use of geo locating services to gain knowledge of surroundings and allow you to upload images to be used as map pin.
It also lets you create sites easily with noted descriptive forms set to be filled in accordingly and launch sites without delay.
An efficient customer service is provided by CitiLights the Real Estate WordPress Theme with a choice of payment opportunities and very friendly environment for use on all types of electronic gadgets.
For better allocated real estate services go with CitiLights WordPress Theme.
<!-comments-button-->