Drag and Drop Engine WordPress Theme Review
Drag and Drop Engine WordPress Theme Review
The World these days is all about short factual information that can be read through headlines. Want something to pull this all together? Something to give the readers to read yet not bore. Then you have come to the right place because you are in need of Engine WordPress theme.
Product Details
- News Magazine
- Custom Panel
- Review System
- Comparison System
- Smart Sidebars
- Mega Menu
- Infinite Loading
- Drag and Drop
- Responsive
- WooCommerce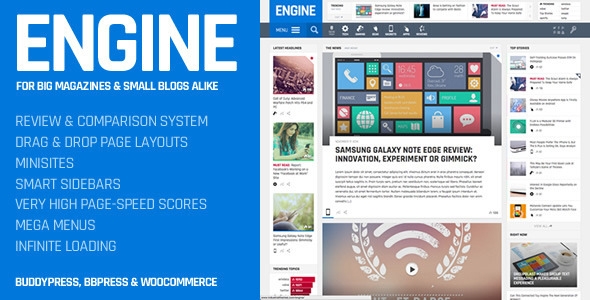 Image Source: ThemeForest
Engine WordPress Theme Overview
Today we review Engine WordPress Theme which is a blog based theme and acts as both a news site and a magazine. Well you can call it more like a mini website which serves it purpose well.
The Engine WordPress Theme is perfect for those people who are looking to make a small website that concerns either one of these ( Videos, Tech, News, Gossip, Gadgets, Gear, Quotes, and all other flashy updates.)
The best part of the Engine WordPress theme begins when it has these small things that you can handle to make it all look way lot cooler.
Smart sides is one of the features that actually lets you read the website in peace without having the trouble of locating the main tabs again. It stays with you throughout the side of the website and you can scroll through anywhere you want.
The Engine WordPress theme also has more little tid bits that make the theme a whole lot interesting. You have the option to drag and drop to customize your theme accordingly so that you end up with a look you want.
Minisites lets you create small miniature websites that act within your Engine WordPress theme but separately. Mega menus are another plus point which helps in aiding your Engine menu.
More options include comparisons, trending topics, reviews and so much more. Go and have a look at the future.
<!-comments-button-->