Visual Composer: Page Builder for WordPress
Visual Composer: Page Builder for WordPress
With internet hosting record number of people pooling in with their innovative, personal ideas and thoughts it is becoming difficult for many to get heard over this babble of expert managements regarding various sites. What they need is a tool to make their sites available and launched in an interested manner, hence we offer you Visual Composer WordPress Plugin.
WordPress Compatibility
93/10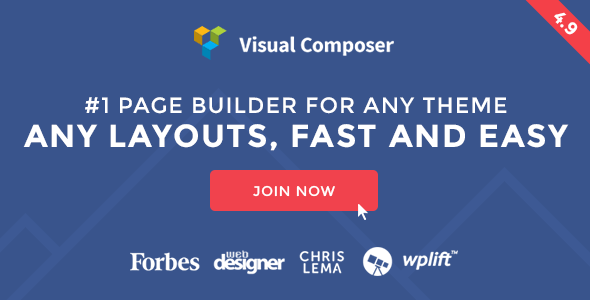 Image Source: ThemeForest
As visible from the name, Visual Composer WordPress Plugin is an element that can enhance the presentation of your site and allow its completion in a shorter span of time, due to its extremely flexible features available.
All you need to do is drag and drop, creating the layout for your site and improving it appreciably with a single click. Certain noticeable features that set this page builder apart are mentioned below:
Review: Visual Composer Premium Page builder
Complete control of your site will be in your own hands allowing you to create the design and then augment it further by visualizing and certain effects according to your personal thought process, in an easy manner.
Visual Composer for WordPress is one of the top page builder plugin and till now more than 100,000 WordPress lovers purchase this useful plugin from CodeCanyon by Envato.
No preceding knowledge about building a catchy website is required and all the features provided by this WordPress Plugin can aid you in managing to create the trendiest website in a simple yet efficient way.
Powerful Front-end
Visual Composer WordPress Plugin is basically used in arranging for up to date and modish programming patterns so to be used in your sites and increase their popularity. Frontend, and backend editors provided offer many opportunities to be used to further beautify your sites and make them useful by preventing any extra clicks and searches at all.
Maintenance of backup data and option of saving as templates is available via Visual Composer WordPress Plugin that lets you use and reuse whatever information you want to repeat or may have lost otherwise had it not been Visual Composer WordPress Plugin you be using.
All kinds of post types are accepted to work using the composer while the additional factor of being in the administrative panel lets you to opt whatever aspects you wish to add or delete from your sites.
Create Layout with Page Builder
Visual Composer WordPress Plugin updates automatically, free of cost to keep you informed about the latest and state-of-the-art to date issues and advanced methods.
An efficient staff is available round the clock to answer your queries regarding any activity and feature of this WordPress page builder plugin.
By offering a variety of translators such as qTranslate, mqTranslate etc Visual Composer WordPress Plugin lets you expand the scope of your sites in different languages. Being SEO friendly via Yoast, the Plugin ensures your high ranking during searches made by public.
Visual Composer for WooCommerce
Thinking of going for WooCommerce e-shop, make a start and develop change by using Visual Composer WordPress Plugin (fully attuned with Woo Commerce). With all its short codes enlisted in elemental pane, you can choose your pick and design the best site ever.
Visual Composer WordPress Plugin also lets you enjoy the use of a wide range (40+) of grid templates to present posts, pages etc and make your sites increasingly interesting. Addition of videos from youtube can also be made using this plugin.
So if you are really ready to set the trend, adopt Visual Composer WordPress Plugin and become the change.
<!-comments-button-->