Steam – Responsive Retina Review Magazine Theme
Steam - Responsive Retina Review Magazine Theme
As we are talking more about magazine themes these days we thought why not introduce you the Steam WordPress theme. Like its name it helps you let of the steam in some amazing ways. Your magazine will have a whole new look with this amazing offspring of themes.
Product Details
- Review System
- Responsive
- Retina Ready
- Page Builder
- Ajax Sorting
- Award System
- User Rating
- Theme Options
- Google Fonts
- jQuery Slider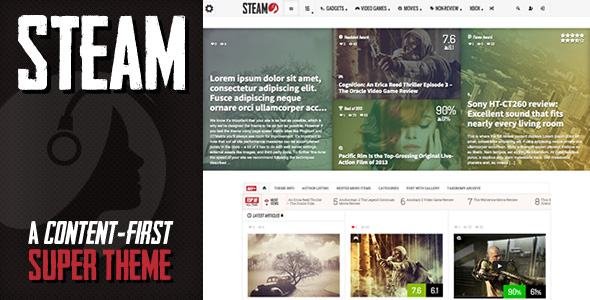 Image Source: ThemeForest
Theme Forest has been making some amazing set of theme and we all know how true that is. But what if I tell you that they have launched a whole "New Breed" of magazines that has the internet by storm named as Steam Responsive Review Magazine Theme.
Now the question you would be asking at this point in time would be, what's so different and new about it? Well, hold on to your horses and I will let you know.
Steam WordPress Magazine Theme
Steam WordPress Theme is the new complete mini-site that helps users make something big turn into something small yet spectacular. The Steam WordPress theme comes with a unique system of page building that will aid you throughout the magazine life.
They have high tech award and badge system that gives you full author and user rating. AjAX helps you in sorting, filtering and dividing your posts accordingly.
Your preference is kept in mind all the time and the design is something to lust after. The Steam WordPress theme is 100% responsive and with the complete page builder gives your versatility with style and class.
Steam WordPress Theme is powered by Industrial Theme Framework 2.0 and supports WooCommerce and BuddyPress Compatibility.
You can play with a customizable Headline or maybe the side bars that have to offer more than usual. A box panel that helps your viewers see things in a different light and a widget panel that does it all. Grab it now!
<!-comments-button-->