Highly Responsive WordPress Sliding Sidebar Plugin
Highly Responsive WordPress Sliding Sidebar Plugin
Welcome the new and stylish Wordpress sliding sidebar. Now you want your viewers to quickly get the idea of a new event you are organizing or any other detail you can easily refer to this Wordpress custom sidebar mentioned below. Let us have a look at the features.
Product Details
- Smart Slider
- BuddyPress
- WooCommerce
- Sidebar Position
- Custom HTML/PHP
- Custom Rules
- Builtin Styles
- Nano Scroller
- PDF Guide
- Smart Tabs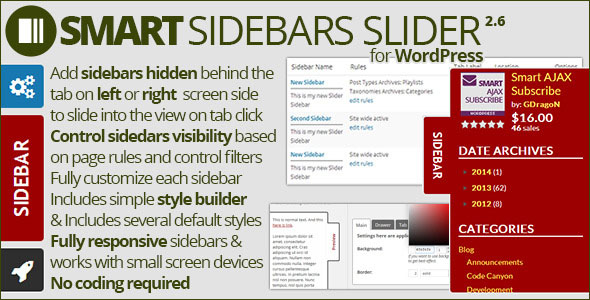 Image Source: CodeCanyon
If you are looking for a responsive WordPress sliding sidebar plugin then you are in a right place. We found this plugin on CodeCanyon and this plugin is highly recommended by customers. Here is our review about WordPress Smart Sidebar Slider.
WordPress Sliding Sidebar Features
Smart Sidebar Slider is a responsive WordPress sliding sidebar plugin with smooth performance on multiple screen sizes ranging from small screen devices to larger.
No knowledge of coding? Not a problem, this sliding sidebar plugin is very suitable for the more-blogging kind of people as it does not require any coding for feature modification.
Unique and open customization options varying from colour to size to organizing the screen side for placement of the slider.
Caters a developed style builder for blogger's satisfaction and many pre-provided style options.
Add one or more sliding sidebar on a webpage and also define the pages on which the sidebars will be displayed.
Adding custom content is easy with the addition of HTML or PHP codes as per your requirement. Finally, have full authority over animations for responsive sliding sidebars and a lot.
<!-comments-button-->